Manga & Co.
Jan 31, 2019
1989 Kimba on TV in Japan
---
It is currently aired on Teletama (Television Saitama)
Category: TV airings
Posted by: kimba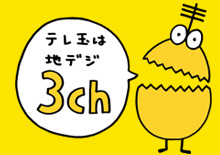 The 1989 Kimba TV series is currently aired on TV in Japan on Television Saitama. The airing started in the end of 2018 (probably in December 2018), and it should end in February/March 2019. It is aired from Monday to Friday at 6:45 PM.